New Car stamps from the New Zealand Wine Post
Mood:
crushed out
Now Playing: CAR STAMP ISSUE
Topic: Stamps
Spectacular Car stamps for Fast & Free Postage with Jaguar and Packard cars. The sheets are set so that se-tenant collision pairs are possible, ordinary pairs and blocks as well as se-tenant blocks. The sheets have 20 stamps. They are sold in joined pairs or singles- one of each stamp. The packard stamp has the value of 0.00 for Free Postage which might be a first. The Jaguar has the value of 2.00 for Fast postage. Issued o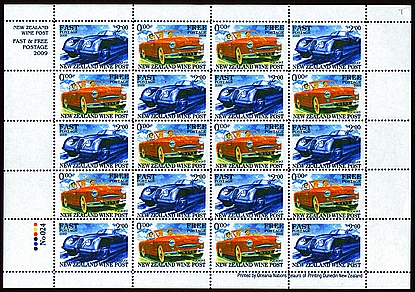 n 28 may, 2009.
Posted by winepost at 4:57 PM
Updated: Wednesday, 27 May 2009 5:03 PM